Radical group defends using 'Anne Frank' to promote anti-colonialism agenda because she was 'white'
This story was first published by The Dark Wire Investigation Foundation
This week, many Twitter users noticed that 'Anne Frank' was trending on the social media site after an anti-colonialism group, the Black Hammer Organization, accused the Holocaust victim whose diary about her harrowing time in hiding from the Nazis during WWII has circulated the world, of being a "colonizer."
The group wrote on Twitter Tuesday, "If you wanna learn more about how anne frank is a colonizer and about the 200 acres we have liberated, join us tonight on our open meeting!" The post was an advertisement for "No community control of the Klan", which was a fundraiser for "Hammer City", a colony they're hoping to form.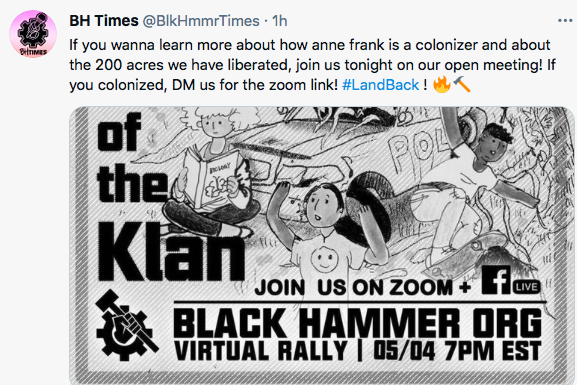 The GoFundMe page for the effort has raised over $64,000 of its $500,000 goal. Asked by this reporter whether Black Hammer's recent tweets and messages violated any of the platform's rules, GoFundMe didn't offer a response.
The crowdfunding site has suspended users in the past. Last year, they dropped conservative activist Candace Owens for making controversial statements about George Floyd.
Meanwhile, Black Hammer's Secretary General Anco defended their tweets about Anne Frank, telling this reporter, "Being called a colonizer is not an anti semitic slur. Its the material relationship white Jews have to colonized people. Ex: PALESTINE. We are not anti semetic [sic] , we are anti white."
"Colonized Jews are within this organization, they represent Palestine, Ethiopia, Uganda, Korea, and Mapuche," they said. "Religion is not what moves the world but rather Colonialism and White power do. Hope this clears that up."
Anco added that the group also promotes its "principal [sic] of unity #2", which "CLEARLY STATES we believe all colonized people are equal."
"We believe all Colonized Proletariat are equal; no matter gender, sexuality, age, skin tone, body type, location, religion, language, mental/physical differences and/or bi/multiracial identity," the principle states.
Black Hammer touts a logo that resembles the hammer and sickle of communism and socialism. The group has a strict "NO WHITES ALLOWED" policy and advocates "to take the Land Back for all colonized people worldwide."
The organization features articles on its website lauding "sex work", celebrating Chinese Communist Party leaders, and bashing cops.
"Currently, our physical and intellectual labor is being coerced to build for the capitalist white colonial state, but it can be redirected to a noble cause," an about page on their site reads. "We will organize our labor to be of service to our people. Our symbol, the Hammer, represents breaking the chains of colonialism and building a self-determined future for all colonized people worldwide."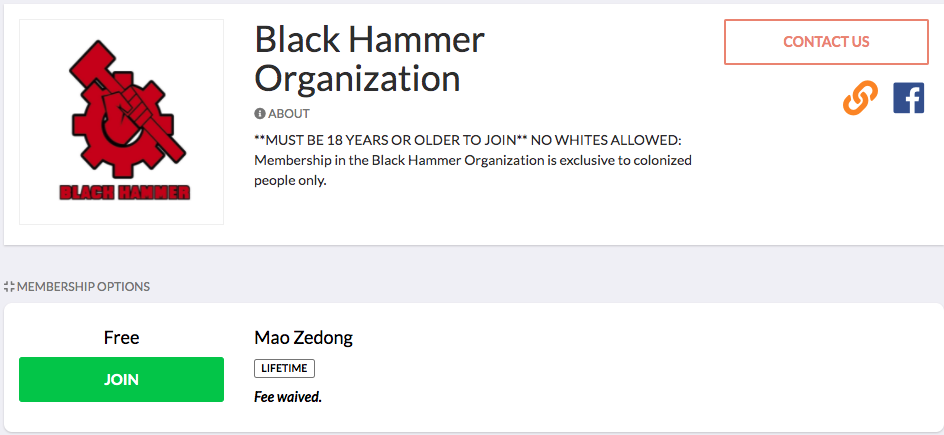 This week wasn't the first time the group used Anne Frank's name to promote their message.
One year ago, Gazi Kodzo, who leads the organization and goes by "Chief" wrote on Twitter, "(middle finger emoji) Anne Frank! As a Black Child in america all through school I was propagandized to mourn a BECKY. I wasn't told about the COUNTLESS Black girls america GENOCIDED! Indigenous girls america GENOCIDED! Palestinian girls that Israel is killing through GENOCIDE right now!"
Watchdog StopAntisemitism.org featured Kodzo as their "Antisemite of the Week" after that, saying, "Kodzo went on a horrific antisemitic rant on both his Twitter and Facebook accounts vilifying and belittling the death of Anne Frank while referencing a derogatory, misogynistic term used for white women – 'BECKY'. Garnering immediate criticism from all sides of the political spectrum, Twitter immediately suspended both of his accounts."
Kodzo is currently suspended from Twitter. Twitter didn't immediately respond to this reporter's request for comment.
You can follow Jennie Taer on Twitter @JennieSTaer
Click here to read the original report
Jan. 6 Select Committee Announces Plan to 'Advance Contempt Proceedings' Against Mark Meadows
The January 6th Capital riot saga continues as a Democratic-led Select Committee has confirmed its plans to hold former President Trump's chief of staff Mark Meadows in criminal contempt. On Tuesday CNN obtained a letter that Mark Meadow's attorney sent to the January 6 Committee formally announcing he would refuse to continue to cooperate with the probe.
"We agreed to provide thousands of pages of responsive documents and Mr. Meadows was willing to appear voluntarily, not under compulsion of the Select Committee's subpoena to him, for a deposition to answer questions about non-privileged matters," attorney George J. Terwilliger III stated in the letter.
"Now actions by the Select Committee have made such an appearance untenable…In short, we now have every indication from the information supplied to us last Friday — upon which Mr. Meadows could expect to be questioned — that the Select Committee has no intention of respecting boundaries concerning Executive Privilege," Terwilliger added.
Committee Chairman Bennie Thompson (D-MS) wrote a letter dated December 7 announcing its retaliatory actions: "The Select Committee is left with no choice but to advance contempt proceedings and recommend that the body in which Mr. Meadows once served refer him for criminal prosecution."
CNN reports on the timeline of correspondence between the Select Committee and Mr. Meadows:
Meadows was first subpoenaed by the committee on September 23. On November 12, Meadows failed to appear for a deposition, but on November 22, the committee gave Meadows another opportunity to begin cooperating with the committee by turning over documents and scheduling a new deposition, to which Meadows agreed. But, the day before the scheduled deposition, Meadows, via his lawyer, informed the committee he would not be appearing for the scheduled December 8 deposition and would cease cooperating with the committee.
Prior to Tuesday's decision to cease cooperating with the committee, Meadows "had turned over approximately 6,000 pages worth of documents to the panel" reports CNN.