Radical group defends using 'Anne Frank' to promote anti-colonialism agenda because she was 'white'
This story was first published by The Dark Wire Investigation Foundation
This week, many Twitter users noticed that 'Anne Frank' was trending on the social media site after an anti-colonialism group, the Black Hammer Organization, accused the Holocaust victim whose diary about her harrowing time in hiding from the Nazis during WWII has circulated the world, of being a "colonizer."
The group wrote on Twitter Tuesday, "If you wanna learn more about how anne frank is a colonizer and about the 200 acres we have liberated, join us tonight on our open meeting!" The post was an advertisement for "No community control of the Klan", which was a fundraiser for "Hammer City", a colony they're hoping to form.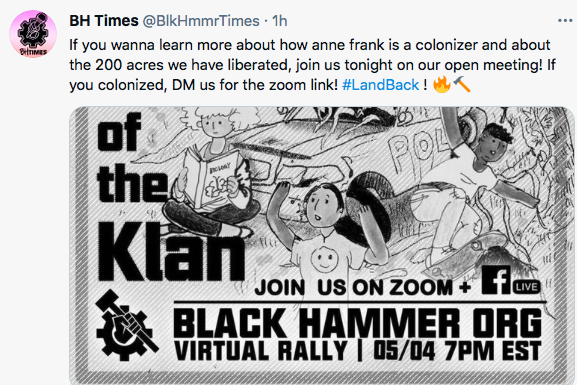 The GoFundMe page for the effort has raised over $64,000 of its $500,000 goal. Asked by this reporter whether Black Hammer's recent tweets and messages violated any of the platform's rules, GoFundMe didn't offer a response.
The crowdfunding site has suspended users in the past. Last year, they dropped conservative activist Candace Owens for making controversial statements about George Floyd.
Meanwhile, Black Hammer's Secretary General Anco defended their tweets about Anne Frank, telling this reporter, "Being called a colonizer is not an anti semitic slur. Its the material relationship white Jews have to colonized people. Ex: PALESTINE. We are not anti semetic [sic] , we are anti white."
"Colonized Jews are within this organization, they represent Palestine, Ethiopia, Uganda, Korea, and Mapuche," they said. "Religion is not what moves the world but rather Colonialism and White power do. Hope this clears that up."
Anco added that the group also promotes its "principal [sic] of unity #2", which "CLEARLY STATES we believe all colonized people are equal."
"We believe all Colonized Proletariat are equal; no matter gender, sexuality, age, skin tone, body type, location, religion, language, mental/physical differences and/or bi/multiracial identity," the principle states.
Black Hammer touts a logo that resembles the hammer and sickle of communism and socialism. The group has a strict "NO WHITES ALLOWED" policy and advocates "to take the Land Back for all colonized people worldwide."
The organization features articles on its website lauding "sex work", celebrating Chinese Communist Party leaders, and bashing cops.
"Currently, our physical and intellectual labor is being coerced to build for the capitalist white colonial state, but it can be redirected to a noble cause," an about page on their site reads. "We will organize our labor to be of service to our people. Our symbol, the Hammer, represents breaking the chains of colonialism and building a self-determined future for all colonized people worldwide."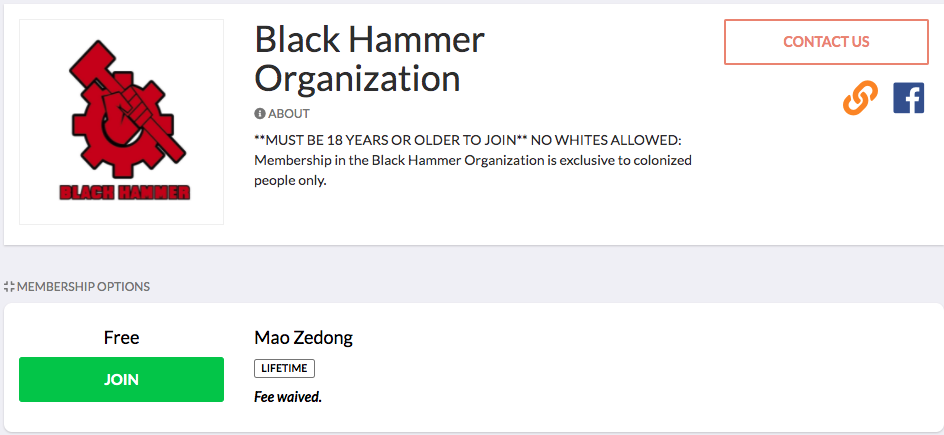 This week wasn't the first time the group used Anne Frank's name to promote their message.
One year ago, Gazi Kodzo, who leads the organization and goes by "Chief" wrote on Twitter, "(middle finger emoji) Anne Frank! As a Black Child in america all through school I was propagandized to mourn a BECKY. I wasn't told about the COUNTLESS Black girls america GENOCIDED! Indigenous girls america GENOCIDED! Palestinian girls that Israel is killing through GENOCIDE right now!"
Watchdog StopAntisemitism.org featured Kodzo as their "Antisemite of the Week" after that, saying, "Kodzo went on a horrific antisemitic rant on both his Twitter and Facebook accounts vilifying and belittling the death of Anne Frank while referencing a derogatory, misogynistic term used for white women – 'BECKY'. Garnering immediate criticism from all sides of the political spectrum, Twitter immediately suspended both of his accounts."
Kodzo is currently suspended from Twitter. Twitter didn't immediately respond to this reporter's request for comment.
You can follow Jennie Taer on Twitter @JennieSTaer
Click here to read the original report
Texas has raised over $55 million from private donations to secure border, build a wall
As of September 12, the state of Texas has raised a little over $55 million in private donations, to secure the southern border and build a wall. "While securing the border is the federal government's responsibility, Texas will not sit idly by as this crisis grows. Texas is responding with the most robust and comprehensive border plan the nation has ever seen," Texas Gov. Greg Abbott said in a statement.
"The State of Texas is working collaboratively with communities impacted by the border crisis to arrest and detain individuals coming into Texas illegally," Abbott's statement reads. "Our efforts will only be effective if we work together to secure the border, make criminal arrests, protect landowners, rid our communities of dangerous drugs, and provide Texans with the support they need and deserve."
In addition to finding money for a border wall, Abbott has signed legislation which designated Mexican drug cartels as domestic terrorists, and has called on President Joe Biden to do the same.
"Fentanyl is a clandestine killer, and Texans are falling victim to the Mexican cartels that are producing it," said Governor Abbott in a statement. "Cartels are terrorists, and it's time we treated them that way. In fact, more Americans died from fentanyl poisoning in the past year than all terrorist attacks across the globe in the past 100 years. In order to save our country, particularly our next generation, we must do more to get fentanyl off our streets."
"As of now, Biden has not responded to Abbott's request to designate Mexican cartels as terrorist organizations" reports Just The News.