Poll: Half of Americans say their taxes are too high
Half of Americans think their federal taxes are too high according to a Gallup poll released Thursday.
"Heading into this year's delayed tax filing day, half of Americans think their taxes are too high, while 44% consider them about right and 4% too low. The 50% calling them too high is up slightly from an average 45% over the prior three years, while similar to most of Gallup's yearly measurements since 2003," the poll report said.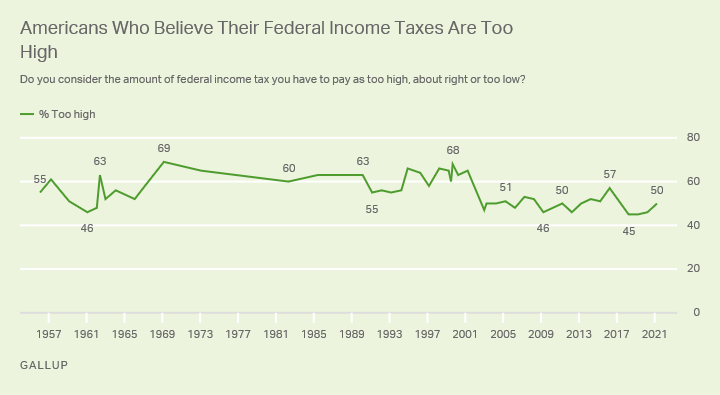 The percentages have changed over time, especially after the second Bush Administration.
"Americans' concern that their taxes are too high was much more prevalent before the implementation of President George W. Bush's first round of tax cuts in 2001. From 1982 to 1999, between 55% and 68% of U.S. adults described their taxes as too high," the Gallup report said.
Interestingly, a majority consider their tax rates fair.
"Currently, 55% say they are fair, while 43% disagree," the report said.
"The 55% who now deem their taxes as fair is down slightly from the 57% to 61% range recorded over the four years of Donald Trump's presidency, from 2017 to 2020."
Read the full report here.