Poll: Half of Americans say their taxes are too high
Half of Americans think their federal taxes are too high according to a Gallup poll released Thursday.
"Heading into this year's delayed tax filing day, half of Americans think their taxes are too high, while 44% consider them about right and 4% too low. The 50% calling them too high is up slightly from an average 45% over the prior three years, while similar to most of Gallup's yearly measurements since 2003," the poll report said.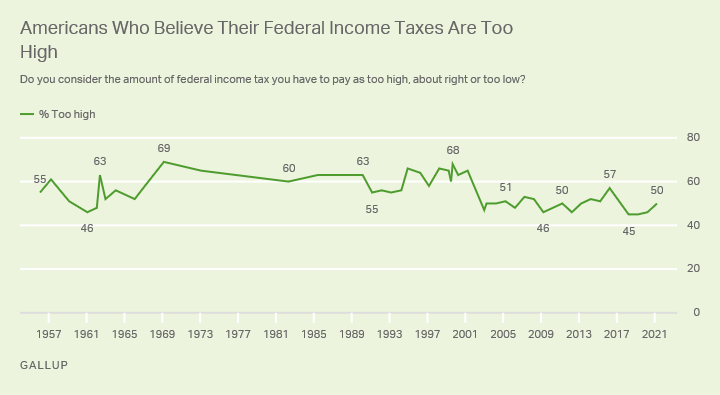 The percentages have changed over time, especially after the second Bush Administration.
"Americans' concern that their taxes are too high was much more prevalent before the implementation of President George W. Bush's first round of tax cuts in 2001. From 1982 to 1999, between 55% and 68% of U.S. adults described their taxes as too high," the Gallup report said.
Interestingly, a majority consider their tax rates fair.
"Currently, 55% say they are fair, while 43% disagree," the report said.
"The 55% who now deem their taxes as fair is down slightly from the 57% to 61% range recorded over the four years of Donald Trump's presidency, from 2017 to 2020."
Read the full report here.
Health Industry Distributors' Association: Supply Chain Delays 'A Healthcare Issue'
The Health Industry Distributors' Association (HIDA) released harrowing data stating "Transportation Delays Are A Healthcare Issue." HIDA's December release states, "research estimates that approximately 8,000-12,000 containers of critical medical supplies are delayed an average of up to 37 days throughout the transportation system."
The statement continues, "The West Coast port with the greatest number of delayed medical containers are the Ports of Long Beach and Los Angeles. The most congested East Coast port is the Port of Savannah."
An infographic is accompanied with the statement which breaks down the crisis further. 17 is the average number of days the shipments are delayed at the Port. There's an 11 day average delay by rail, and a 9 day average delay by truck.
In those shipping containers, the infographic states 187,000 gowns, 360,000 syringes and 3.5 million surgical gloves are held. The ports with the most medical delayed supplies are Los Angeles/Long Beach, Savannah, New York/New Jersey, Charleston, Seattle, Oakland, Boston, Baltimore and Houston.
Axios reports under a "Why it matters" headline, that "Per their projections, medical supplies arriving at a U.S. port on Christmas Day won't be delivered to hospitals and other care settings until February 2022."
As a result, "that could delay critical supplies at a time when health care is already expected to most need them due to surges from Delta and Omicron."
Additionally, "The supply chain problems can compound, starting with medical supplies languishing in U.S. ports for an average of 17 days, officials said."