Poll: Half of Americans say their taxes are too high
Half of Americans think their federal taxes are too high according to a Gallup poll released Thursday.
"Heading into this year's delayed tax filing day, half of Americans think their taxes are too high, while 44% consider them about right and 4% too low. The 50% calling them too high is up slightly from an average 45% over the prior three years, while similar to most of Gallup's yearly measurements since 2003," the poll report said.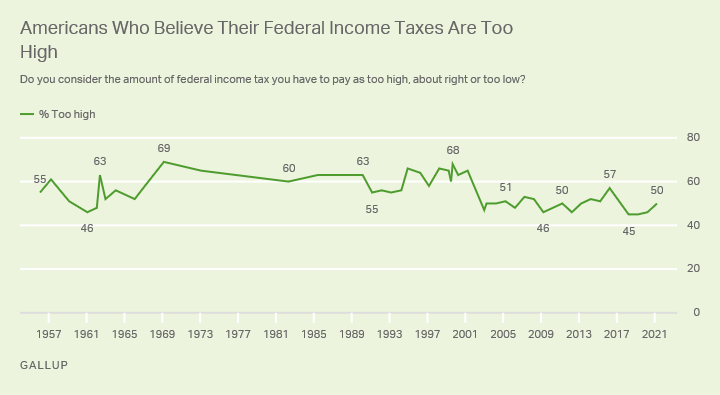 The percentages have changed over time, especially after the second Bush Administration.
"Americans' concern that their taxes are too high was much more prevalent before the implementation of President George W. Bush's first round of tax cuts in 2001. From 1982 to 1999, between 55% and 68% of U.S. adults described their taxes as too high," the Gallup report said.
Interestingly, a majority consider their tax rates fair.
"Currently, 55% say they are fair, while 43% disagree," the report said.
"The 55% who now deem their taxes as fair is down slightly from the 57% to 61% range recorded over the four years of Donald Trump's presidency, from 2017 to 2020."
Read the full report here.
Hunter Biden Files Lawsuit Against Rudy Giuliani Over 'Privacy Violation'
In a legal development that has garnered significant attention, Hunter Biden, the son of President Joe Biden, has filed a lawsuit against Rudy Giuliani, the former lawyer for President Trump. The lawsuit alleges that Giuliani violated Biden's privacy rights by disseminating content obtained from Biden's controversial laptop.
This complaint was submitted to the U.S. District Court for the Central District of California and places the primary responsibility for the alleged violation of Biden's digital privacy squarely on Giuliani. Additionally, the lawsuit names Robert Costello, a former federal prosecutor who had previously represented Giuliani, as a co-defendant.
According to the complaint, Giuliani and Costello are accused of dedicating substantial time and effort to search for, hack into, tamper with, manipulate, copy, disseminate, and scrutinize data they claim to have obtained from Hunter Biden's alleged laptop computer. However, Biden's attorneys vehemently argue that the data in question did not originate from a laptop but rather from an external drive. This external drive is reported to contain pictures, videos, emails, and other data that have created legal and political challenges for Hunter Biden since they were first published by the New York Post in 2020.
Giuliani and Costello have openly acknowledged obtaining copies of files from a hard drive device that Hunter Biden allegedly left at a Delaware computer repair shop in 2019. This information was subsequently provided to the New York Post in October 2020, leading to a story that relied on Hunter Biden's emails to suggest that President Biden was involved in a business deal with a Ukrainian company that had appointed Hunter to its board.
House Republicans initiated an impeachment inquiry into President Biden, alleging that he used his position as vice president to dissuade Ukrainian prosecutors from investigating the company employing his son. These lawmakers also claim that the president had a hand in various business dealings orchestrated by Hunter Biden. President Biden has consistently denied any involvement in his son's business affairs.
According to reports from Fox News, Hunter Biden's legal team had previously sent cease-and-desist letters to Giuliani and others who obtained and disseminated the laptop's contents. The present lawsuit seeks a court order to prevent Giuliani and others from accessing, tampering with, manipulating, or copying Biden's data. It also demands the return of the alleged "device/hard drive" to Hunter Biden, along with any backup files, cloud files, or copies of the data.
This lawsuit marks the latest chapter in a series of legal actions taken by Hunter Biden and his lawyers to counteract leaks of personal information that thrust his private life into the spotlight of conservative media outlets.
Earlier this month, Hunter Biden sued former President Trump's aide Garrett Ziegler, accusing him of disseminating explicit content from the device. In March, Biden initiated a countersuit against John Paul Mac Isaac, the owner of the Wilmington, Delaware, computer repair shop, accusing him of unlawfully disseminating personal information and invasion of privacy.
John Paul Mac Isaac initially filed a lawsuit against Hunter Biden, CNN, Politico, and Rep. Adam Schiff in October 2022, alleging defamation. Mac Isaac reported alerting the FBI after Hunter Biden failed to retrieve the laptop within three months of dropping it off at his shop. He claims that the laptop contained emails related to then-Vice President Joe Biden's purported foreign business dealings and explicit videos.