Pew Poll: Illegal immigration is becoming a bigger problem than COVID-19, Americans Say
A new poll from Pew Research reveals that 48% of those polled believe illegal immigration "a very big problem," while only 47% consider the coronavirus outbreak to their most pressing concern, which was a lower percentage of Americans than those polled last year.
"The survey finds that, for the most part, the public's views of major problems facing the U.S. are little changed from about a year ago," Pew Research said. "However, the share of Americans saying the coronavirus is a very big problem has declined 11 percentage points since last June (from 58% to 47%), while the share citing illegal immigration has increased 20 points (from 28% to 48%)."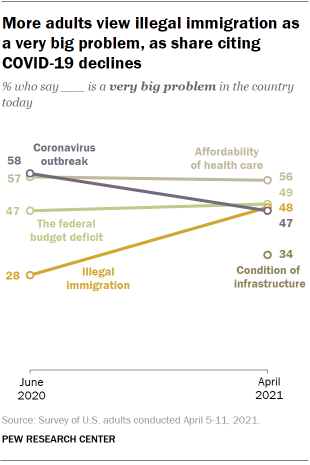 Those polled appeared to give their findings based on what political party lines.
"While views of most national problems are divided along partisan lines, including illegal immigration, increasing shares of both Republicans and Democrats rate illegal immigration as a very big problem. Nearly three-quarters of Republicans (72%) say illegal immigration is a major problem, up 29 points since last June. The share of Democrats who say this is a major problem is now 29%, compared with 15% nearly a year ago," the poll findings said.
Interestingly, the issue of the federal deficit has changed in which political party views it as a problem.
"Over this period, Republicans and Democrats have moved in opposite directions in concerns about the federal budget deficit. Currently, 71% of Republicans say the budget deficit is a very big problem; about half of Republicans (49%) said this in June 2020. By contrast, just 31% of Democrats rate the deficit as a major problem, down from 45% last year," the report said.
Read the full poll findings from Pew Research here.
Border officials find 'sophisticated' drug tunnel with rail system, electricity, from Tijuana to San Diego
Earlier this week U.S. authorities announced the discovery of a "fully operational" and "sophisticated" tunnel under the U.S.-Mexico border, reaching from Tijuana to San Diego.
Authorities confirmed 1,700-foot tunnel that ends in a San Diego warehouse near the U.S. Border Protection Otay Mesa Port of Entry was used to traffic drugs.
U.S. Attorney for the Southern District of California Randy Grossman said the 61-foot deep and four feet across at the widest part was complete with "reinforced walls, a rail system, and electricity for ventilation."
A 1,744 foot drug smuggling tunnel 61 feet underneath Trump's border wall is discovered between Tijuana Mexico and Otay Mesa, south of San Diego. It has reinforced walls, a rail system, electricity, and a ventilation system. pic.twitter.com/O2KXREUJh6

— Mike Sington (@MikeSington) May 17, 2022
Authorities stated a whopping $25 million worth of drugs were seized form within the tunnel over the weekend. Fox News reports that among the drugs were "1,762 pounds of cocaine, 165 pounds of meth, and 3.5 pounds of heroin."
Authorities found the tunnel after surveilling a truck that was going to and from the warehouse with large boxes. "In a span of a few hours, agents watched five vehicles come and go from the stash house and this warehouse, we allege that the defendants were driving into the garage and loading or dropping off cardboard boxes full of drugs to further the movement or distribution of drugs throughout the United States, the federal agents were watching the whole time," Grossman said.
After raiding the warehouse, authorities found no other drugs, but did spot the tunnel opening carved onto the floor.
"There is no more light at the end of this narco-tunnel," Grossman said. "We will take down every subterranean smuggling route we find to keep illicit drugs from reaching our streets and destroying our families and communities."
Fox News reports six California residents, aged 21 to 55, were arrested and charged with conspiring to distribute cocaine, meth, and heroin. "Together with the Mexican government, we have been collaborating in trying to eradicate these tunnels, which should not exist because that is where a lot of crime happens, and a lot of the suffering that we see," U.S. Ambassador to Mexico Ken Salazar told the news outlet Zeta. "This needs to stop."
Fox News adds "authorities said that drug-smuggling tunnels are not uncommon. They are usually used by drug smugglers to evade authorities and transport a large quantity of drugs. More than 15 tunnels have been found since 2006, officials said."