Pew Poll: Illegal immigration is becoming a bigger problem than COVID-19, Americans Say
A new poll from Pew Research reveals that 48% of those polled believe illegal immigration "a very big problem," while only 47% consider the coronavirus outbreak to their most pressing concern, which was a lower percentage of Americans than those polled last year.
"The survey finds that, for the most part, the public's views of major problems facing the U.S. are little changed from about a year ago," Pew Research said. "However, the share of Americans saying the coronavirus is a very big problem has declined 11 percentage points since last June (from 58% to 47%), while the share citing illegal immigration has increased 20 points (from 28% to 48%)."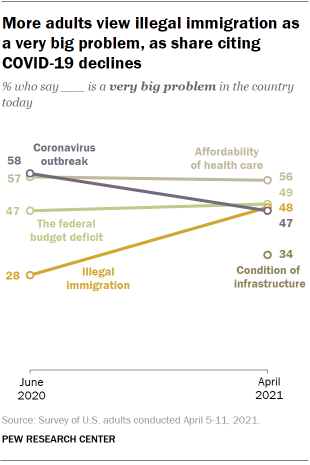 Those polled appeared to give their findings based on what political party lines.
"While views of most national problems are divided along partisan lines, including illegal immigration, increasing shares of both Republicans and Democrats rate illegal immigration as a very big problem. Nearly three-quarters of Republicans (72%) say illegal immigration is a major problem, up 29 points since last June. The share of Democrats who say this is a major problem is now 29%, compared with 15% nearly a year ago," the poll findings said.
Interestingly, the issue of the federal deficit has changed in which political party views it as a problem.
"Over this period, Republicans and Democrats have moved in opposite directions in concerns about the federal budget deficit. Currently, 71% of Republicans say the budget deficit is a very big problem; about half of Republicans (49%) said this in June 2020. By contrast, just 31% of Democrats rate the deficit as a major problem, down from 45% last year," the report said.
Read the full poll findings from Pew Research here.
Trump, Rep Biggs: invoking the Alien Enemies Act to enable widespread deportation will 'be necessary'
At a recent rally in Iowa, former President Donald Trump promised that if elected again in 2024, he would invoke the Alien Enemies Act to enable widespread deportation of migrants who have illegally entered the United States. Since President Joe Biden took office in January of 2021, over 6 million people have illegally entered the country.
Republican Representative Andy Biggs from border state Arizona, which is among the states suffering the greatest consequences from the Biden administration policies, lamented that Trump's suggestion will be "necessary."
Speaking on the "Just the News, No Noise" television show, Biggs stated "[I]t's actually gonna have to be necessary." Biggs then added his thoughts on how many more people will continue to cross the border under Biden: "Because by the time Trump gets back in office, you will have had over 10 million, in my opinion, over 10 million illegal aliens cross our border and come into the country, under the Biden regime."
"And so when you start deporting people, and removing them from this country, what that does is that disincentivizes the tens of thousands of people who are coming," Biggs went on. "And by the way, everyday down in Darién Gap, which is in Panama… over 5,000 people a day. [I] talk[ed] to one of my sources from the gap today. And I will just tell you, those people that you've seen come come in to Eagle Pass, over 7,000 in a three day period, most of those two weeks ago, were down crossing into the Darién Gap."
"And those people… make their way up and they end up in the Eagle Pass [Texas], Del Rio area," he continued. "So if you want to disincentivize them, you remove them from the country, which is why they remain in Mexico policy was so doggone effective at slowing down illegal border crossings."