Pew Poll: Illegal immigration is becoming a bigger problem than COVID-19, Americans Say
A new poll from Pew Research reveals that 48% of those polled believe illegal immigration "a very big problem," while only 47% consider the coronavirus outbreak to their most pressing concern, which was a lower percentage of Americans than those polled last year.
"The survey finds that, for the most part, the public's views of major problems facing the U.S. are little changed from about a year ago," Pew Research said. "However, the share of Americans saying the coronavirus is a very big problem has declined 11 percentage points since last June (from 58% to 47%), while the share citing illegal immigration has increased 20 points (from 28% to 48%)."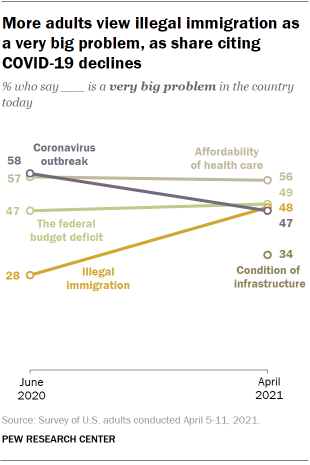 Those polled appeared to give their findings based on what political party lines.
"While views of most national problems are divided along partisan lines, including illegal immigration, increasing shares of both Republicans and Democrats rate illegal immigration as a very big problem. Nearly three-quarters of Republicans (72%) say illegal immigration is a major problem, up 29 points since last June. The share of Democrats who say this is a major problem is now 29%, compared with 15% nearly a year ago," the poll findings said.
Interestingly, the issue of the federal deficit has changed in which political party views it as a problem.
"Over this period, Republicans and Democrats have moved in opposite directions in concerns about the federal budget deficit. Currently, 71% of Republicans say the budget deficit is a very big problem; about half of Republicans (49%) said this in June 2020. By contrast, just 31% of Democrats rate the deficit as a major problem, down from 45% last year," the report said.
Read the full poll findings from Pew Research here.
Majority of Americans believe cartels have more control over border than our government
The Vice President of the United States claimed, only days ago, that the U.S. southern border is "secure." Not only did her comment receive severe pushback from lawmakers and border agents and agencies, but the American people don't buy her rhetoric.
A poll published Thursday by RMG Research shows a majority of Americans "believe cartels have more control over the southern border than the U.S. government."
Sixty-one percent of registered voters surveyed said that cartels had greater control of the border, compared to 19 percent who said the government has more control. Twenty percent of respondents were "not sure."
National Review reports:
The poll surveyed 1,200 registered voters from September 20 to 21, and was conducted online by Scott Rasmussen. The margin of error is +/- 2.8 percent.
The majority of voters surveyed, 54 percent, responded that the federal government is not "seriously trying to secure the border and reduce illegal immigration."
Sixty percent of voters said the "failure of the federal government to secure the southern border" is a bigger problem that governors like Ron DeSantis sending illegal immigrants to Martha's Vineyard, and 63 percent said it is "hypocritical" for sanctuary cities, like Martha's Vineyard, to complain when illegal immigrant are sent there.
Another poll by CRC Research obtained exclusively National Review showed that 63 percent agree that sanctuary cities like Chicago, New York City, and Washington, D.C., should share the burden of having illegal immigrants with border states.
The rampant hypocrisy of Democratic lawmakers was on full display after Florida Governor Ron DeSantis sent 50 illegal immigrants to the Martha's Vineyard, the liberal playground vacation destination in Massachusetts.
Within 24 hours, Democratic lawmakers in Martha's Vineyard blasted the Florida governor for being "cruel," then gave the illegal immigrants shelter and food, before putting them on busses and taking them away; ridding their town of the burdensome migrants they claim to support.
Washington, D.C., mayor Muriel Bowser has also said her city "is not a border town," is "not Texas," and doesn't have the infrastructure to handle this type of and level of immigration to our city."
The poll also shows voters believe ending illegal immigration is important. 83 percent of respondents said it was important, 55 percent said it would have a positive effect on the economy, and 44 percent said it would "significantly reduce crime."