Pew Poll: Illegal immigration is becoming a bigger problem than COVID-19, Americans Say
A new poll from Pew Research reveals that 48% of those polled believe illegal immigration "a very big problem," while only 47% consider the coronavirus outbreak to their most pressing concern, which was a lower percentage of Americans than those polled last year.
"The survey finds that, for the most part, the public's views of major problems facing the U.S. are little changed from about a year ago," Pew Research said. "However, the share of Americans saying the coronavirus is a very big problem has declined 11 percentage points since last June (from 58% to 47%), while the share citing illegal immigration has increased 20 points (from 28% to 48%)."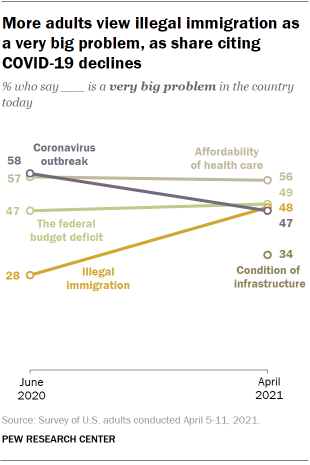 Those polled appeared to give their findings based on what political party lines.
"While views of most national problems are divided along partisan lines, including illegal immigration, increasing shares of both Republicans and Democrats rate illegal immigration as a very big problem. Nearly three-quarters of Republicans (72%) say illegal immigration is a major problem, up 29 points since last June. The share of Democrats who say this is a major problem is now 29%, compared with 15% nearly a year ago," the poll findings said.
Interestingly, the issue of the federal deficit has changed in which political party views it as a problem.
"Over this period, Republicans and Democrats have moved in opposite directions in concerns about the federal budget deficit. Currently, 71% of Republicans say the budget deficit is a very big problem; about half of Republicans (49%) said this in June 2020. By contrast, just 31% of Democrats rate the deficit as a major problem, down from 45% last year," the report said.
Read the full poll findings from Pew Research here.
Report: Deportations Dropped By 90% Under President Biden
Deportations of illegal immigrants have dropped by 90% under President Biden, according to a new report from the Center for Immigration Studies.

"Immigration enforcement, as measured by the number of aliens removed from the country, has collapsed to the lowest level since the mid-1990s, according to ICE deportation records the Center has obtained. Under policies imposed by the Biden administration, removals dropped by 80 percent since last year's low point during the pandemic lockdown, and by 90 percent since 2019, the last normal year for ICE operations," Jessica Vaughan, director of policy studies at the Center for Immigration Studies, said in the report.

The report explained that, "Under Biden Policies, ICE Removals Have Plummeted to a Fraction of Normal Levels. On his first day of office (January 20, 2021), President Biden issued a directive halting virtually all deportations for 100 days and greatly restricting immigration enforcement activity. Following a lawsuit by Texas asserting grave fiscal and public safety harm to its citizens from a near-suspension of federal immigration enforcement, within two weeks federal judge Drew Tipton halted the deportation freeze and later enjoined it indefinitely pending further legal action."

"The restrictions on other enforcement actions have remained in place with some minor modifications, meaning that, in effect, ICE has been limited to removing known or suspected terrorists, aliens convicted of very serious crimes (mostly those defined as 'aggravated felons'), and recent illegal arrivals," the report added.

"The number of aliens removed who had serious criminal convictions also has declined by over 50 percent from 2020 and by 65 percent since 2019," the report observed.
The Biden administration's restrictions on ICE have resulted in the highest levels of illegal immigration on record as the agency has been "functionally abolished."

The Washington Post reported, "ICE under President Biden is an agency on probation. The new administration has rejected calls from some Democrats to eliminate the agency entirely, but Biden has placed ICE deportation officers on a leash so tight that some say their work is being functionally abolished."