Pew Poll: Illegal immigration is becoming a bigger problem than COVID-19, Americans Say
A new poll from Pew Research reveals that 48% of those polled believe illegal immigration "a very big problem," while only 47% consider the coronavirus outbreak to their most pressing concern, which was a lower percentage of Americans than those polled last year.
"The survey finds that, for the most part, the public's views of major problems facing the U.S. are little changed from about a year ago," Pew Research said. "However, the share of Americans saying the coronavirus is a very big problem has declined 11 percentage points since last June (from 58% to 47%), while the share citing illegal immigration has increased 20 points (from 28% to 48%)."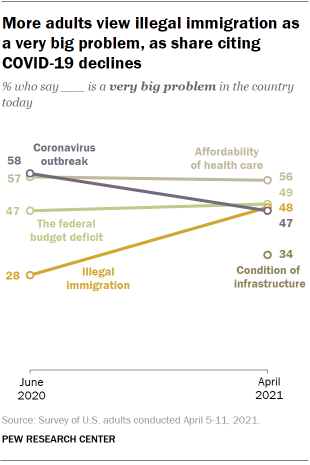 Those polled appeared to give their findings based on what political party lines.
"While views of most national problems are divided along partisan lines, including illegal immigration, increasing shares of both Republicans and Democrats rate illegal immigration as a very big problem. Nearly three-quarters of Republicans (72%) say illegal immigration is a major problem, up 29 points since last June. The share of Democrats who say this is a major problem is now 29%, compared with 15% nearly a year ago," the poll findings said.
Interestingly, the issue of the federal deficit has changed in which political party views it as a problem.
"Over this period, Republicans and Democrats have moved in opposite directions in concerns about the federal budget deficit. Currently, 71% of Republicans say the budget deficit is a very big problem; about half of Republicans (49%) said this in June 2020. By contrast, just 31% of Democrats rate the deficit as a major problem, down from 45% last year," the report said.
Read the full poll findings from Pew Research here.
Border Crisis by the numbers: in January agents seize 500lbs drugs and 70 criminals with outstanding warrants
The first month of 2023 at the southern border is already looking bleak; just take a look at the numbers. U.S. Customs and Border Protection officers in El Paso, Texas have seized over 500 pounds of hard drugs in January alone.
Additionally, the agency apprehended 62 people they were able to identify as having outstanding arrest warrants. Among the criminals were sex offenders.
The devastating numbers are not surprising, given that in December, the El Paso mayor declared a sate of emergency "after record numbers of people were released onto city streets and sidewalks by the Biden administration" reports The Center Square.
Texas Governor Greg Abbott also "sent 400 National Guard troops to restore order and provide humanitarian assistance" adds the media outlet. Border Patrol data showed in December, 55,766 illegal foreign nationals were apprehended in the El Paso Sector.
There were also 32,632 known and recorded gotaways in December, meaning they were able to evade getting captured by law and immigration officials. law enforcement officers told The Center Square that despite the skyrocket high numbers, "these seizures and apprehensions represent a fraction of the amount of people and drugs being trafficked to the southern border between ports of entry."