Outrage ensues after Miami Heat's Meyers Leonard uses antisemitic slur
This story was first published by The Dark Wire Investigation Foundation
Miami heat player Meyers Leonard is in hot water this week for using an antisemitic slur in an online video game stream.
"K— B—-," Leonard could be heard and seen saying in clips captured of the Twitch stream.
A number of groups and activists fighting antisemitism and hate quickly expressed outrage over Leonard's statements.
On Tuesday afternoon, the Anti Defamation League said they were "shocked and disappointed to see… this ugly, offensive #antisemitic slur."
"We're not sure what to be more horrified about – @NBA's Meyers Leonard dropping a horrific antisemitic slur so casually or the people trying to excuse it as 'just gaming language," wrote watchdog StopAntisemitism.org on Twitter.
"THIS is how normalized antisemitism has become," the group added.
In response to Leonard's statements, the Miami Heat announced Tuesday night that Leonard "will be away from the team indefinitely" as the NBA conducts an investigation into the matter. And the team "vehemently" condemned "the use of any form of hate speech.
Leonard was also dropped by several gaming companies he had relationships with, according to ESPN.
After the Heat's statement, Leonard apologized in an Instagram post, saying that he "didn't know what the word meant at the time…"
Now that the 9-year NBA veteran is "aware" of the derogatory term's meaning, he says he's "committed to properly seeking out people who can help educate me about this type of hate and how we can fight it."
Social media influencer Ben Soffer, who goes by 'boytithnojob' online, called Leonard's apology "shameful," adding "I don't buy it for a second."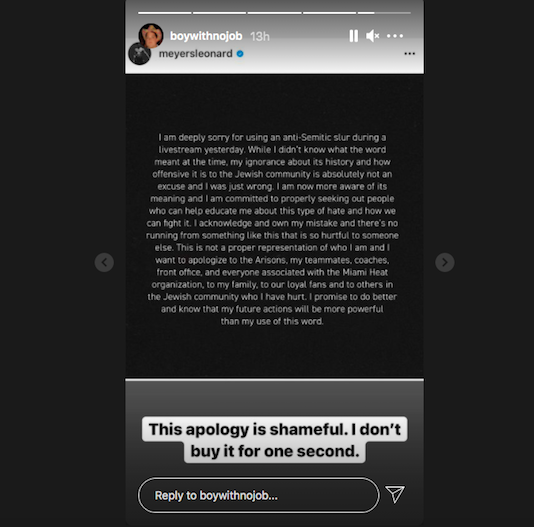 Newsmax's Logan Ratick called on the Heat's owner to speak on the issue and called out Philadelphia Eagles owner Jeffrey Lurie for "caving on" antisemitic statements made by wide receiver Desean Jackson.
Jackson once shared Adolf Hitler quotes and praised Nation of Islam leader Louis Farrakhan on Instagram last year and he later apologized for the since-deleted posts. He was released last month by the Eagles after two seasons, but his departure appeared to have nothing to do with any antisemitism.
Follow Jennie Taer on Twitter @JennieSTaer
Click here to read the original report
Multiple states launch lawsuit against Biden's student-loan forgiveness plan
Breaking Thursday, the states of Nebraska, Missouri, Arkansas, Kansas, Iowa, and South Carolina joined together to file a lawsuit against President Biden's administration in order to stop the student loan-forgiveness program from taking effect.
"In addition to being economically unwise and downright unfair, the Biden Administration's Mass Debt Cancellation is yet another example in a long line of unlawful regulatory actions," argued the plaintiffs in their filing.
The attorneys general spearheading the legal challenge also submit that "no statute permits President Biden to unilaterally relieve millions of individuals from their obligation to pay loans they voluntarily assumed."
Biden, however, has argued that he is able to unilaterally cancel student debt to mitigate the economic effects of the coronavirus pandemic. Specifically, writes National Review, a Department of Education memo released by his administration asserts that the HEROES Act,  which passed in 2003 and allows the secretary of education to provide student-debt relief "in connection with a war or other military operation or national emergency," provides the legal basis for the cancellation.
But, National Review notes that the plaintiffs point out that Biden declared in a recent 60 Minutes interview that "the pandemic is over."
The legal brief also adds:
"The [HEROES] Act requires ED [Education Department] to tailor any waiver or modification as necessary to address the actual financial harm suffered by a borrower due to the relevant military operation or emergency… This relief comes to every borrower regardless of whether her income rose or fell during the pandemic or whether she is in a better position today as to her student loans than before the pandemic."
Moreover, they argue that the HEROES Act was designed to allow the secretary to provide relief in individual cases with proper justification.
The first lawsuit against Biden's executive order came Tuesday from the Pacific Legal Foundation:
"The administration has created new problems for borrowers in at least six states that tax loan cancellation as income. People like Plaintiff Frank Garrison will actually be worse off because of the cancellation. Indeed, Mr. Garrison will face immediate tax liability from the state of Indiana because of the automatic cancellation of a portion of his debt," wrote PLF in their own brief.
The state-led lawsuit was filed in a federal district court in Missouri, and asks that the court "temporarily restrain and preliminarily and permanently enjoin implementation and enforcement of the Mass Debt Cancellation," and declare that it "violates the separation of powers established by the U.S. Constitution," as well as the Administrative Procedure Act.