Outrage ensues after Miami Heat's Meyers Leonard uses antisemitic slur
This story was first published by The Dark Wire Investigation Foundation
Miami heat player Meyers Leonard is in hot water this week for using an antisemitic slur in an online video game stream.
"K— B—-," Leonard could be heard and seen saying in clips captured of the Twitch stream.
A number of groups and activists fighting antisemitism and hate quickly expressed outrage over Leonard's statements.
On Tuesday afternoon, the Anti Defamation League said they were "shocked and disappointed to see… this ugly, offensive #antisemitic slur."
"We're not sure what to be more horrified about – @NBA's Meyers Leonard dropping a horrific antisemitic slur so casually or the people trying to excuse it as 'just gaming language," wrote watchdog StopAntisemitism.org on Twitter.
"THIS is how normalized antisemitism has become," the group added.
In response to Leonard's statements, the Miami Heat announced Tuesday night that Leonard "will be away from the team indefinitely" as the NBA conducts an investigation into the matter. And the team "vehemently" condemned "the use of any form of hate speech.
Leonard was also dropped by several gaming companies he had relationships with, according to ESPN.
After the Heat's statement, Leonard apologized in an Instagram post, saying that he "didn't know what the word meant at the time…"
Now that the 9-year NBA veteran is "aware" of the derogatory term's meaning, he says he's "committed to properly seeking out people who can help educate me about this type of hate and how we can fight it."
Social media influencer Ben Soffer, who goes by 'boytithnojob' online, called Leonard's apology "shameful," adding "I don't buy it for a second."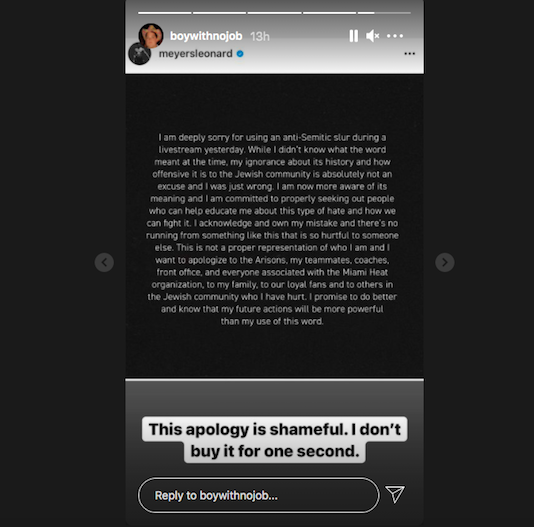 Newsmax's Logan Ratick called on the Heat's owner to speak on the issue and called out Philadelphia Eagles owner Jeffrey Lurie for "caving on" antisemitic statements made by wide receiver Desean Jackson.
Jackson once shared Adolf Hitler quotes and praised Nation of Islam leader Louis Farrakhan on Instagram last year and he later apologized for the since-deleted posts. He was released last month by the Eagles after two seasons, but his departure appeared to have nothing to do with any antisemitism.
Follow Jennie Taer on Twitter @JennieSTaer
Click here to read the original report
Boston Celtics Player Legally Changing Name to 'Enes Kanter Freedom' to Celebrate U.S. Citizenship
Boston Celtics center Enes Kanter is celebrating becoming a U.S. citizen in an incredible way. The 29-year-old athlete from Turkey is having his citizenship oath ceremony Monday, and will legally change his name to Enes Kanter Freedom.
Kanter is an outspoken human rights advocate who had his Turkish passport revoked in 2017 after he criticized Turkish president Recep Tayyip Erdogan. Mediaite reports "he has also criticized NBA stars Michael Jordan and LeBron James for not doing enough to help the Black community and not speaking out against exploitative labor practices in China respectively."
Celtics head coach Ime Udoka told the Boston Globe the team is "all for" the player's name change. Kanter's manager says the player will complete his legal name change to have Kanter become his middle name and Freedom be his new last name at Monday's ceremony.
"We congratulated him as a group for getting his American citizenship last week," Udoka said. "That's who Enes is, we're proud of him. Enes is who he is. He's passionate about his stances and the name change; you look at [Ron] Artest [who changed his name to Metta Sandiford-Artest in the middle of the COVID-19 outbreak] and guys that have done it in the past. It's something he wants to express and we're all for it."
Kanter has already changed his official Twitter account to Enes Kanter FREEDOM with his new last name in all caps. Freedom made waves when he tweeted the following on November 18: Money over Morals for the 'King'. Sad & disgusting how these athletes pretend they care about social justice. They really do 'shut up & dribble' when Big Boss [inserted Chinese flag] says so. Did you educate yourself about the slave labor that made your shoes or is that not part of your research?"
The tweet included photos of basketball shoes he wore painted with human rights depictions and phrases such as "hey still researching and getting educated?" as well as "I am informed and educated on the situation."
The statement is with regard to his criticism of LeBron James' partnership with Nike. "Nike remains one of the NBA's biggest sponsors as both organizations feed off their partnerships with China" reports Mediaite. Kanter Freedom also made an offer to take Michael Jordan and Nike co-founder Phil Knight to China in order for the men to "visit these slave labor camps and you can see it with your own eyes."