Outrage ensues after Miami Heat's Meyers Leonard uses antisemitic slur
This story was first published by The Dark Wire Investigation Foundation
Miami heat player Meyers Leonard is in hot water this week for using an antisemitic slur in an online video game stream.
"K— B—-," Leonard could be heard and seen saying in clips captured of the Twitch stream.
A number of groups and activists fighting antisemitism and hate quickly expressed outrage over Leonard's statements.
On Tuesday afternoon, the Anti Defamation League said they were "shocked and disappointed to see… this ugly, offensive #antisemitic slur."
"We're not sure what to be more horrified about – @NBA's Meyers Leonard dropping a horrific antisemitic slur so casually or the people trying to excuse it as 'just gaming language," wrote watchdog StopAntisemitism.org on Twitter.
"THIS is how normalized antisemitism has become," the group added.
In response to Leonard's statements, the Miami Heat announced Tuesday night that Leonard "will be away from the team indefinitely" as the NBA conducts an investigation into the matter. And the team "vehemently" condemned "the use of any form of hate speech.
Leonard was also dropped by several gaming companies he had relationships with, according to ESPN.
After the Heat's statement, Leonard apologized in an Instagram post, saying that he "didn't know what the word meant at the time…"
Now that the 9-year NBA veteran is "aware" of the derogatory term's meaning, he says he's "committed to properly seeking out people who can help educate me about this type of hate and how we can fight it."
Social media influencer Ben Soffer, who goes by 'boytithnojob' online, called Leonard's apology "shameful," adding "I don't buy it for a second."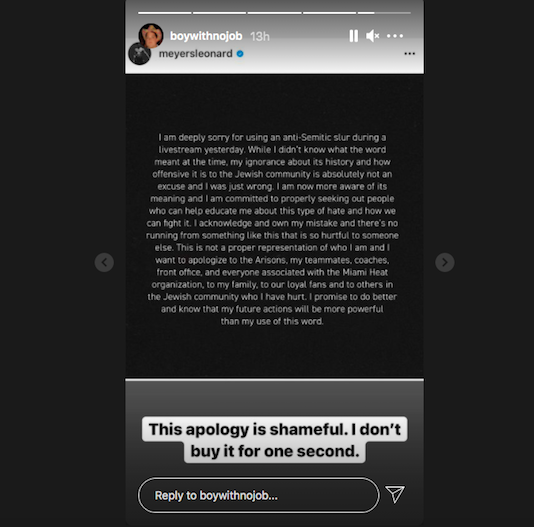 Newsmax's Logan Ratick called on the Heat's owner to speak on the issue and called out Philadelphia Eagles owner Jeffrey Lurie for "caving on" antisemitic statements made by wide receiver Desean Jackson.
Jackson once shared Adolf Hitler quotes and praised Nation of Islam leader Louis Farrakhan on Instagram last year and he later apologized for the since-deleted posts. He was released last month by the Eagles after two seasons, but his departure appeared to have nothing to do with any antisemitism.
Follow Jennie Taer on Twitter @JennieSTaer
Click here to read the original report
Hunter Biden Faces Devastating Tax Charges, Adding to Legal Woes
In a significant legal blow to President Biden's son, Hunter Biden, a California indictment reveals a litany of tax charges, compounding his legal troubles after his earlier plea of not guilty to federal gun charges. Former Whitewater deputy counsel Sol Wisenberg emphasized on "FOX & Friends" the devastating nature of the indictment, considering it a vindication of IRS whistleblowers.
Furthermore, Wisenberg contends that the indictment could have surfaced much earlier, pointing to the IRS whistleblowers' struggle to keep the investigation ongoing. The legal battle, which involved Judge Maryellen Noreika in a Delaware courtroom, prevented what Wisenberg calls a "hinky plea deal" from proceeding. According to reports from Fox News, the former counsel believes that the defense attorneys for Hunter Biden may have overreached in their plea deal negotiations, leading to the current legal turmoil.
The California indictment specifically accuses Hunter Biden of failing to pay nearly $200,000 in income tax for the year 2019. This follows his October plea of not guilty to federal gun charges in the District of Delaware, a case originating from a lengthy investigation.
As the legal noose tightens around Hunter Biden, the latest tax charges come at a critical time. House Republican leaders are gearing up for a vote next week on a measure that could formally initiate an impeachment inquiry into President Biden. The proposed inquiry revolves around potential connections between the president and his son's business dealings, further intensifying the political and legal challenges faced by the Biden family.
The unfolding legal drama poses a serious threat to Hunter Biden's reputation and, consequently, could impact the Biden administration's stability as it faces increasing scrutiny from political adversaries.