Outrage ensues after Miami Heat's Meyers Leonard uses antisemitic slur
This story was first published by The Dark Wire Investigation Foundation
Miami heat player Meyers Leonard is in hot water this week for using an antisemitic slur in an online video game stream.
"K— B—-," Leonard could be heard and seen saying in clips captured of the Twitch stream.
A number of groups and activists fighting antisemitism and hate quickly expressed outrage over Leonard's statements.
On Tuesday afternoon, the Anti Defamation League said they were "shocked and disappointed to see… this ugly, offensive #antisemitic slur."
"We're not sure what to be more horrified about – @NBA's Meyers Leonard dropping a horrific antisemitic slur so casually or the people trying to excuse it as 'just gaming language," wrote watchdog StopAntisemitism.org on Twitter.
"THIS is how normalized antisemitism has become," the group added.
In response to Leonard's statements, the Miami Heat announced Tuesday night that Leonard "will be away from the team indefinitely" as the NBA conducts an investigation into the matter. And the team "vehemently" condemned "the use of any form of hate speech.
Leonard was also dropped by several gaming companies he had relationships with, according to ESPN.
After the Heat's statement, Leonard apologized in an Instagram post, saying that he "didn't know what the word meant at the time…"
Now that the 9-year NBA veteran is "aware" of the derogatory term's meaning, he says he's "committed to properly seeking out people who can help educate me about this type of hate and how we can fight it."
Social media influencer Ben Soffer, who goes by 'boytithnojob' online, called Leonard's apology "shameful," adding "I don't buy it for a second."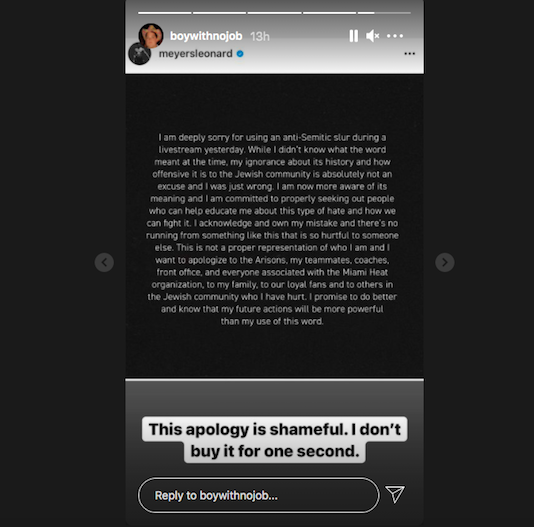 Newsmax's Logan Ratick called on the Heat's owner to speak on the issue and called out Philadelphia Eagles owner Jeffrey Lurie for "caving on" antisemitic statements made by wide receiver Desean Jackson.
Jackson once shared Adolf Hitler quotes and praised Nation of Islam leader Louis Farrakhan on Instagram last year and he later apologized for the since-deleted posts. He was released last month by the Eagles after two seasons, but his departure appeared to have nothing to do with any antisemitism.
Follow Jennie Taer on Twitter @JennieSTaer
Click here to read the original report
Democratic Rep. Ilhan Omar kicked off House Foreign Affairs Committee
Democratic Rep. Ilhan Omar was voted off the House Foreign Affairs Committee Thursday. The action was expected, as Republican members of Congress had criticized Omar's antisemetic and anti-American rhetoric.
After intense debating on the House floor, the resolution passed with a 218-211 vote. Democrats attempted to pull the race card, accusing Republican House members of racism for removing Omar from the committee.
Omar also accused House Republicans of racism, saying, "I am Muslim, I am an immigrant, and interestingly, from Africa…Is anyone surprised that I am being targeted? Is anyone surprised that I am somehow deemed unworthy to speak about American foreign policy, or that they see me as a powerful voice that needs to be silenced?"
"There is this idea that you are a suspect if you are an immigrant or if you are from certain parts of the world or certain skin tone or a muslim." Omar said during the heated debate. A fiery Alexandria Ocasia Cortez also chimed in shouting, "This is an attack on women of color!"
Republican Rep. Nicole Malliotakis, from New York, said she had personally witnessed Omar spew anti-American rhetoric. Malliotakis said, "I have been in that committee room where, the representative, equates Israel and the United States to Hamas and the Taliban. Absolutely unacceptable for a member of that committee."
A four-page resolution was written for the justification of removing Omar from the house Foreign Affairs Committee. The resolution states that in 2019, Omar suggested that Jewish people were buying U.S. political support when she posted on Twitter, "it's all about the Benjamins, baby."
Omar also commented on the September 11th attacks saying, "some people did something." This type of comment is unacceptable for any representative who is sitting on the House Foreign Affairs Committee, lawmakers said.
In the resolution it states that members of this committee should all be held to an "equal standard of conduct due to the international sensitivities and national security concerns under the jurisdiction of this committee."