AP poll: 72% of Americans support requiring ID to vote
A new AP-NORC poll released Friday shows an overwhelming amount of American support requiring identification to vote.
"Voter identification requirements are supported by 72% of the public. That popularity is largely driven by support from Republicans, 91% of whom support a requirement that all voters provide photo identification in order to cast their ballot," the AP-NORC poll reads.
72% of Americans support requiring photo ID—including 56% of Democrats and 91% of Republicans.
53% of Americans believe people should be able to register and vote on the same day at a polling place. This was supported by 38% of Republicans and 60% of Democrats.
"More than half of Americans support all the reforms asked about except for automatically sending a mail-in ballot to every registered voter. Large partisan differences exist among each of these measures. Other than voter identification requirements, none of the reforms receive majority support from Republicans," the poll found.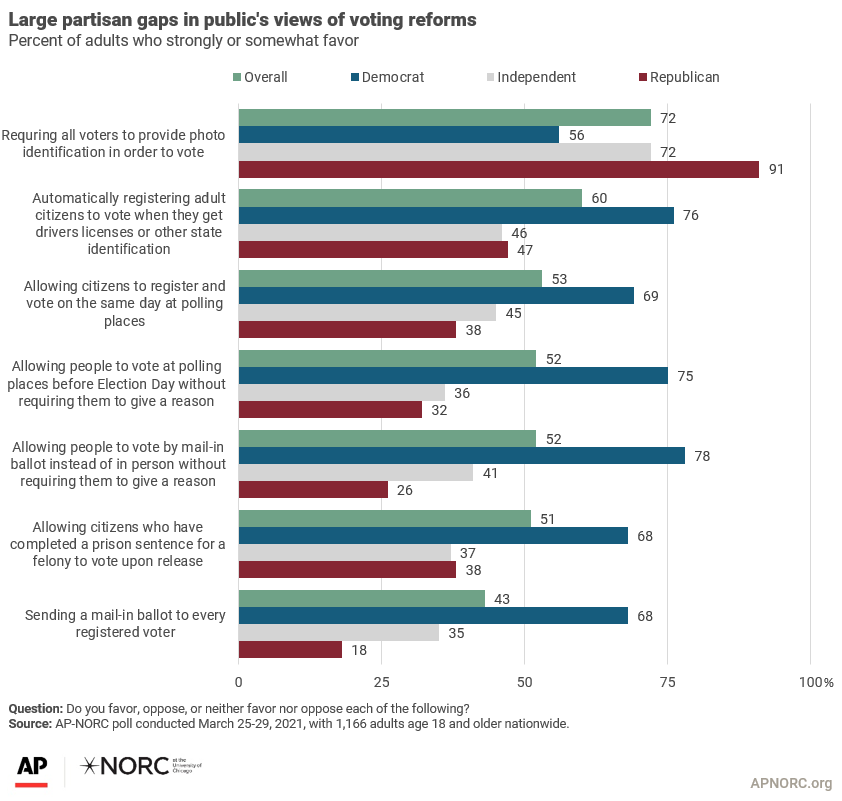 "The nationwide poll was conducted March 25-29, 2021 using the AmeriSpeak® Panel, the probability-based panel of NORC at the University of Chicago. Online and telephone interviews using landlines and cell phones were conducted with 1,166 adults. The margin of sampling error is +/- 3.6 percentage points."
See the full results here.
Biden's 60 Minutes Interview Horrifies White House: 'Does NOT Reflect the OFFICIAL Position'
Uh oh. Someone let President Joe Biden speak by himself again and damage control immediately ensued. President Joe Biden's "60 Minutes" interview which aired on CBS Sunday was 60 minutes of pure torture for viewers and 60 minutes of pure angst for the White House; everyone but the president himself.
60 Minutes' official Twitter account publicly called out the President's answers with an embarrassing statement that his own administration was in disagreement with him:
"President Biden tells 60 Minutes that U.S. men and women would defend Taiwan in the vent of a Chinese invasion. However, after our interview, a White House official told us that U.S. policy on Taiwan has not changed."
President Biden tells 60 Minutes that U.S. men and women would defend Taiwan in the event of a Chinese invasion. However, after our interview, a White House official told us that U.S. policy on Taiwan has not changed. https://t.co/ANg54LifSH pic.twitter.com/V5qjoqF36T

— 60 Minutes (@60Minutes) September 19, 2022
NEW: Asked on @60Minutes if US would defend Taiwan if it came under attack, Biden — again — says yes.

PELLEY: "To be clear, sir, U.S. forces, U.S. men and women, would defend Taiwan in the event of a Chinese invasion?"

BIDEN: "Yes."

(WH again says US policy hasn't changed.)

— Steven Portnoy (@stevenportnoy) September 18, 2022
CBS' Scott Pelley also discussed inflation; an issue drastically affecting the welfare and wellbeing of families. Biden deflected with zero sympathy:
60 Min: "What can you do better to lower inflation?"

Biden: "inflation rate month to month was just up an inch."

60 Min:"You're not arguing 8.3% is good news?"

Biden: "You're acting like all of a sudden 'my God it went to 8.2%'"

60 Min: "It's the highest rate in 40 years." pic.twitter.com/DEwugGct4d

— Greg Price (@greg_price11) September 19, 2022
As for President Biden's son Joe, he is sticking with the narrative that Hunter is the "smartest" person he knows and that "there's not a single thing that I've observed at all that would affect me or the United States relative to my son Hunter."
Biden also said that while the "proof of the pudding is in the eating" in response to being asked if he is fit to be President, Biden did not commit to saying whether or not he will run for re-election. His "intention" is to run again, "but that's just intention" he said. "Is it a firm decision that I run again? That remains to be seen."
"There's not a single thing that I've observed at all that would affect me or the United States relative to my son Hunter," President Biden tells 60 Minutes about his son Hunter Biden. https://t.co/7SixTElqbt pic.twitter.com/6E6FlxhzYp

— 60 Minutes (@60Minutes) September 19, 2022
60 Min: "Are you committed to running again?"

Biden: "My intention, as I said to begin with, is that I would run again. But it's just an intention. But is it a firm decision that I run again? That remains to be seen," pic.twitter.com/3R3W3I8e9Z

— Greg Price (@greg_price11) September 19, 2022