AP poll: 72% of Americans support requiring ID to vote
A new AP-NORC poll released Friday shows an overwhelming amount of American support requiring identification to vote.
"Voter identification requirements are supported by 72% of the public. That popularity is largely driven by support from Republicans, 91% of whom support a requirement that all voters provide photo identification in order to cast their ballot," the AP-NORC poll reads.
72% of Americans support requiring photo ID—including 56% of Democrats and 91% of Republicans.
53% of Americans believe people should be able to register and vote on the same day at a polling place. This was supported by 38% of Republicans and 60% of Democrats.
"More than half of Americans support all the reforms asked about except for automatically sending a mail-in ballot to every registered voter. Large partisan differences exist among each of these measures. Other than voter identification requirements, none of the reforms receive majority support from Republicans," the poll found.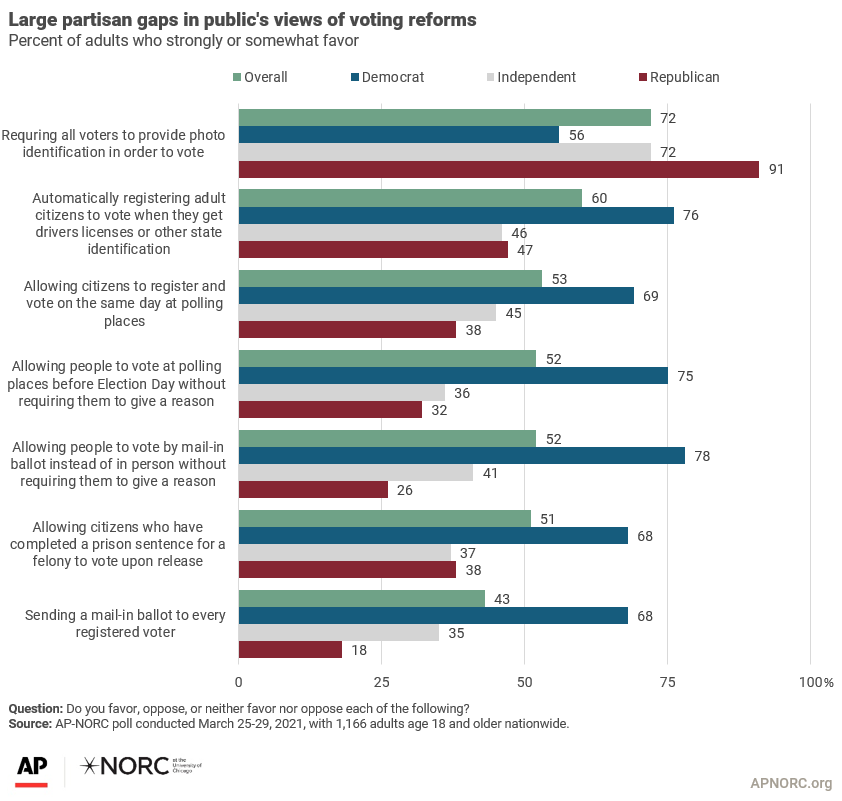 "The nationwide poll was conducted March 25-29, 2021 using the AmeriSpeak® Panel, the probability-based panel of NORC at the University of Chicago. Online and telephone interviews using landlines and cell phones were conducted with 1,166 adults. The margin of sampling error is +/- 3.6 percentage points."
See the full results here.
House passes debt-ceiling deal with support from two thirds of GOP caucus
After hours of debate, the House voted Wednesday night to approve a bipartisan debt-ceiling deal, taking a step toward averting a default on U.S. debt. The measure passed with 314 members voting in favor and 117 members voting in opposition.  149 Republicans and 165 Democrats voted to approve the bill, while 71 Republicans and 46 Democrats voted against it.
National Review writes the measure's passage secures "a victory for House speaker Kevin McCarthy (R-CA), who managed to keep his caucus together despite a challenge from House Freedom Caucus members intent on securing greater spending concessions from the Biden White House."
The bill will now head to the Senate. McCarthy said the measure is the "largest spending cut that Congress has ever voted for," but faced opposition from members of his caucus who believe the deal "didn't go far enough in restoring pre-Covid spending levels."
In his speech on the House floor Wednesday before the vote, McCarthy pleaded with his colleagues to support what he had bargained for with Biden:
"They demanded a clean debt limit, which really means they spend more and you pay more in taxes. House Republicans said 'no'," McCarthy said."Over the past four months, we fought hard to change how Washington works. We stopped the Democrats from writing a blank check after the largest spending binge in American history… The Fiscal Responsibility Act is the biggest spending cut in American history."
National Review reports:
The agreement suspends the nation's $31.4 trillion debt limit through January 1, 2025, and caps spending in the 2024 and 2025 budgets.
The nonpartisan Congressional Budget Office (CBO) has estimated that the deal will reduce budget deficits by about $1.5 trillion between 2023 and 2033. Director of the CBO Phillip Swagel projected that there would be reductions in discretionary outlays of $1.3 trillion over the 2024–2033 period. Mandatory spending would decrease by $10 billion, revenues would decrease by $2 billion over the same period, and the interest on the public debt would decline by $188 billion.
Biden warned of the consequences of default, saying what would follow would include an economic recession, devastated retirement accounts, and millions of jobs lost.
"I made clear from the start of negotiations that the only path forward was a bipartisan budget agreement," explained Biden on Twitter. "No one got everything they wanted. But that's the responsibility of governing."