AP poll: 72% of Americans support requiring ID to vote
A new AP-NORC poll released Friday shows an overwhelming amount of American support requiring identification to vote.
"Voter identification requirements are supported by 72% of the public. That popularity is largely driven by support from Republicans, 91% of whom support a requirement that all voters provide photo identification in order to cast their ballot," the AP-NORC poll reads.
72% of Americans support requiring photo ID—including 56% of Democrats and 91% of Republicans.
53% of Americans believe people should be able to register and vote on the same day at a polling place. This was supported by 38% of Republicans and 60% of Democrats.
"More than half of Americans support all the reforms asked about except for automatically sending a mail-in ballot to every registered voter. Large partisan differences exist among each of these measures. Other than voter identification requirements, none of the reforms receive majority support from Republicans," the poll found.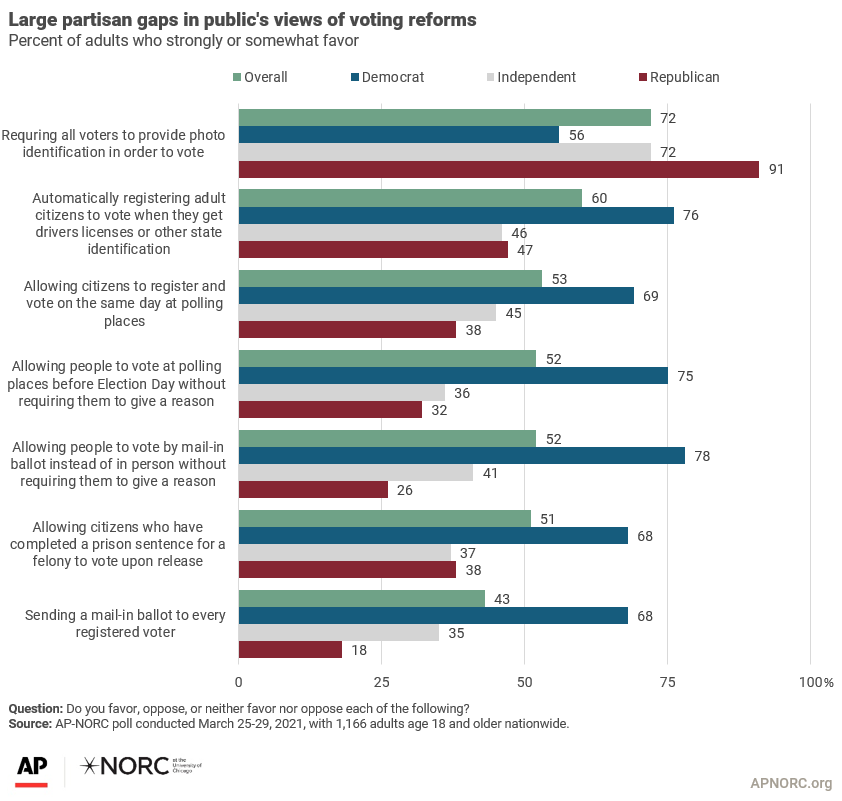 "The nationwide poll was conducted March 25-29, 2021 using the AmeriSpeak® Panel, the probability-based panel of NORC at the University of Chicago. Online and telephone interviews using landlines and cell phones were conducted with 1,166 adults. The margin of sampling error is +/- 3.6 percentage points."
See the full results here.
New York City Dems Push Law to Allow 800,000 Non-Citizens to Vote in Municipal Elections
The New York City Council will vote on December 9 on a law to allow green-card holders and residents with work permits to vote in municipal elections
New York's Democratic party is battling over the constitutionality of voter laws. On December 9, the New York City Council will vote on a law to allow green-card holders and residents with work permits to vote in municipal elections.
"Around 808,000 New York City residents who have work permits or are lawful permanent residents would be eligible to vote under the legislation, which has the support of 34 of 51 council members, a veto-proof majority" reports Fox News.
"It's important for the Democratic Party to look at New York City and see that when voting rights are being attacked, we are expanding voter participation," Councilman Ydanis Rodriguez, a sponsor of the bill and Democrat who represents the Washington Heights neighborhood of Manhattan, told the New York Times. Rodriguez immigrated from the Dominican Republic and became a U.S. citizen in 2000.
Laura Wood, Chief Democracy Officer for the mayor's office, said at a hearing on the bill in September that the law could violate the New York State Constitution, which states that voters must be U.S. citizens age 18 or older.
Mayor Bill de Blasio indicated he could veto the bill following the September hearing.
"We've done everything that we could possibly get our hands on to help immigrant New Yorkers—including undocumented folks—but…I don't believe it is legal," de Blasio told WNYC radio at the time.
Mayor-elect Eric Adams, however, submitted testimony to the September hearing in favor of the bill. "In a democracy, nothing is more fundamental than the right to vote and to say who represents you and your community in elected office…Currently, almost one million New Yorkers are denied this foundational right."
The legislation was first introduced two years ago, but had not yet gained traction due to the legal concerns.