AP poll: 72% of Americans support requiring ID to vote
A new AP-NORC poll released Friday shows an overwhelming amount of American support requiring identification to vote.
"Voter identification requirements are supported by 72% of the public. That popularity is largely driven by support from Republicans, 91% of whom support a requirement that all voters provide photo identification in order to cast their ballot," the AP-NORC poll reads.
72% of Americans support requiring photo ID—including 56% of Democrats and 91% of Republicans.
53% of Americans believe people should be able to register and vote on the same day at a polling place. This was supported by 38% of Republicans and 60% of Democrats.
"More than half of Americans support all the reforms asked about except for automatically sending a mail-in ballot to every registered voter. Large partisan differences exist among each of these measures. Other than voter identification requirements, none of the reforms receive majority support from Republicans," the poll found.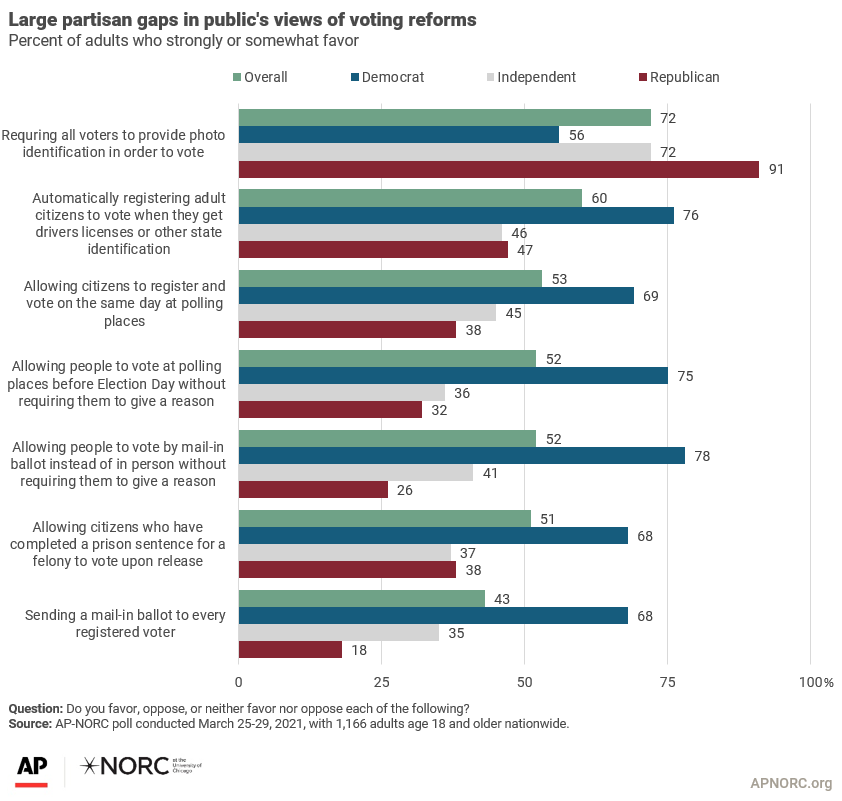 "The nationwide poll was conducted March 25-29, 2021 using the AmeriSpeak® Panel, the probability-based panel of NORC at the University of Chicago. Online and telephone interviews using landlines and cell phones were conducted with 1,166 adults. The margin of sampling error is +/- 3.6 percentage points."
See the full results here.
Judge orders Biden's DHS to release files on agents accused of censoring election 'misinformation'
Missouri Attorney General Andrew Bailey and Louisiana Attorney General Jeff Landry made headway in countering federal agents involved in suppressing what liberal tech labeled "misinformation" on social media.
The Attorneys General moved to release testimony from five Cybersecurity and Infrastructure Security Agency (CISA) employees after learning of their participation in the Biden administration's counter-"disinformation" efforts. On Wednesday, a Louisiana judge ordered the Department of Homeland Security (DHS) to release the files.
Court documents dated Jan. 19 show  the agents participated. The judge's motion Wednesday could shed light on a "switchboarding" tactic employed during the 2020 election, according to the order.
The lawsuit alleges that the defendants, which include the named individuals as well as President Joe Biden and top officials from a variety of federal agencies, "colluded and/or coerced social media companies to suppress disfavored speakers, viewpoints, and content on social media platforms by labeling the content "dis-information," "mis-information," and "mal-formation."
The Daily Caller reports that the five CISA employees allegedly served as a "switchboard" to route requests from federal agencies to censor disinformation to various social media companies, according to the documents.
Switchboard work employed "an audit official to identify something on social media they deemed to be disinformation aimed at their jurisdiction," top CISA election security agent Brian Skully testified in a deposition released Thursday.
"They couldforward that to CISA and CISA would share that with the appropriate social mediacompanies."
UPDATE: The judge granted our motion to compel. CISA has 14 days to comply. https://t.co/2bhwQQJTG6

— AG Jeff Landry (@AGJeffLandry) January 25, 2023